Web Design
Most of the options for affordable websites aren't very good. If you don't have much money to spend, you're usually constrained to a selection of pre-packaged "designs" exactly the same as a hundred other sites.
If you're using a pre-packaged site, you could probably say "my website is:"
Slow to load
Not being found when I search Google or Yahoo
Not presenting the image I want to convey
Not displaying well on iPhones and other mobile browsers
Not meeting my (or my organization's) needs.
Most people would say that you get what you pay for, but I believe I can come up with a much better design for you, at a comparable price.
I will sit down with you (in person, over the phone, or online) and discuss exactly what YOU want out of a website. Then I will get to work and present you with design(s) tailored to your needs. I'll also make suggestions on how best to organize your content to your website's visitors.
Contact me to arrange a meeting. I won't quote you a price until I know what you need.
Portfolio
Cathedral Choir School of Rochester, NY
The Cathedral Choir School wanted to upgrade their site to a more professional look, and raise their visibility to search engines. They chose a modern design with two levels of navigation.
Dave's Top 5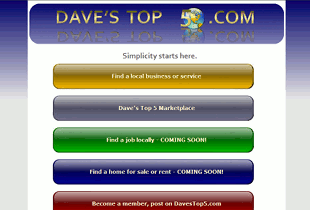 Dave's Top 5 had a prototype for their website, but they needed an inviting, attention-getting design that would not require significant technical changes.